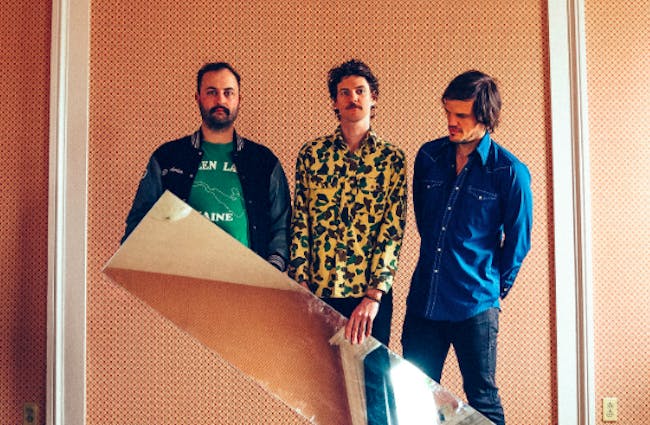 Presented by Citizens Bank of Edmond
Houndmouth
Buffalo Nichols
Houndmouth Performs Historic Tower Theatre in Oklahoma City on May 16th.
DOORS AT 7 / SHOW AT 8
SUPPORT
VENUE INFO
Box office and will call open 30 minutes before doors
Free parking lot directly south of the theatre across 23rd street
Full bar inside venue
ATM in the lobby
Support acts are subject to change
No weapons of any kind are allowed in the building
HOUNDMOUTH
That first November 2011 night, when it all fell together at the Green House, was nothing more complicated than four friends playing music, armed with something to drink and a curiosity about what might happen. They were the generation who has come of age in the new economy, already adept at shuffling jobs and get-bys, firmly acclimated to the diminished expectations that come with growing up somewhere the rest of the world assumes is nowhere. Which, in this case, is New Albany, Indiana.
Houndmouth, then, knew each other from…around. Matt Myers and Zak Appleby had played in cover bands together for years, schooled in blues and classic rock and Motown, toughened by indifferent audiences and the clatter of empty bottles. Matt and Katie Toupin had worked as an acoustic duo for three years, when she wasn't on the road tending to a straight job. Katie and Shane Cody had gone to high school together, before Shane disappeared off to Chicago and New York to study audio engineering. In the beginning it was Shane and Matt who'd started knocking around at first, just drums and guitar, once Shane got home and free of a brief bluegrass flirtation.
The rest happened in a tumble, Zak and Katie switching from guitars to bass and keyboards, respectively. Four months later, their homemade EP in hand, Houndmouth made the pilgrimage to South By Southwest. Their booking agent convinced Rough Trade's Geoff Travis to come have a listen. Of such things are dreams made. Months of conversation and a proper studio later, their debut album, From the Hills Below the City, will be released by Rough Trade.
"We lucked out," Matt says. "We knew we were making good music. We knew we had something. But we didn't know it would escalate so quickly. Always the element of luck." Before and after that bit of luck, Houndmouth have been on the road, building their audience. Working. Opening for the Drive-By Truckers, the Lumineers, the Alabama Shakes, Lucero, and Grace Potter and the Nocturnals. Headlining on their own. Turning heads.
"You know good art when you see it," says Newport Folk Festival booker Jay Sweet, an early adopter, "and you know good food when you taste it. Well, you also know good music when you hear it, and when I first heard Houndmouth it was like freshest tasting art I had heard in many moons. A true musical omnivore's delight." "I'm going down where nobody knows me," they sing during the jaunty chorus of "On the Road." The opening track to From the Hills Below the City, which is more or less the relationship New Albany has to Louisville, across the river: "I had a job had to leave behind me…I had to move to another city." A two and a half minute slightly bent pop confection, conscious of all kinds of music which went before. Self-conscious about nothing, not even the neo-rap cutting contest that snaps across one break. A blues for now, then.
The older heads are noticing, the ones who are hardest to convince. "Houndmouth is a great young band," testifies Patterson Hood of the Truckers. "They toured with us last month and brought it each and every night. They were extremely popular with our fanbase and our band. I look forward to hearing what they do next." Rolling Stone's David Fricke joined the chorus of praise after seeing Houndmouth during SXSW '13: "They are all singers, leading with individual character and harmonizing in saloon-choir empathy. The music is earthy melancholy with a rude garage-rock streak."
Houndmouth's songs emerge with a loose-limbed swing, anchored by a sturdy rhythm and a cagey melodic sensibility. "Penitentiary," revived from Matt and Katie's acoustic days, is all dressed up as a rock anthem. It's dark, yet fun, with all those voices singing, "come on down to the Penitentiary/oh mama, the law came crashing down on me." Matt sketches the origins of his song, which became their song. "I met a guy in Reno on a road trip before we started the band, and he was super down on his luck," he says. "We met him at a gas station, bumming money. He told me a few details that are probably in the song, but I made most of it up. I changed the setting to Texas, because it sounded authentic." And then he mentions that he was listening to Jimmie Rodgers at the time.
Hard-luck songs, to be sure, betraying a certain criminal bent. Not their stories, Katie is careful to note, but the world they've watched walk on by. "We grew up in Southern Indiana," she says. "It's not always the classiest place. So all that is not unfamiliar even if we haven't personally been through the darkest parts of it." And yet, as she also says, "No matter how much anyone wants to write a completely fictional or narrative song, there's ALWAYS part of you in it. I think that it is important, even when writing narrative songs, that there is something real about them. That there is part of yourself in them." Houndmouth's truths, then, are emotional. For the most part.
"The dealers and the bootleggers/Got me hooked on freebasing/And I can't trust my government/So I looked into the other dimension," Katie sings, tough and innocent. "And now they got me doing bad things." "The song is a story," Katie says. "I didn't get hooked on freebasing. Yet there is part of me in it…It's also maybe about me wanting to escape, loosen my morals, not opening my heart to people." So are the songs. Deeply emotional, that weird, powerful, essential thing the blues does that makes you feel better through the tears. Especially the songs which are deeply personal, like "Halfway to Hardinsburg" or "Palmyra." Or the sad, slurring loss of "Long as You're Home," on which they sing, "Who am I supposed to be?" Themselves, of course.
Four musicians from New Albany, Indiana, across the river from Louisville. Where Will Oldham, Jim James, and Freakwater's Catherine Irwin live. A fecund place, and place matters. Not a sound, not a scene, but a place. A real place. "There is a familiar element about My Morning Jacket that I can't really pinpoint," Katie says. "It's kinda like what I can't pinpoint about what Houndmouth is that we all sort of get. It just makes us feel at home."
BUFFALO NICHOLS
For all the moonlighting he's done in other genres over the years, Carl Nichols always comes back to the blues. At various points in his career Nichols has played gospel (despite being an atheist), West African music (despite being born and raised in Milwaukee) and, as one half of the acclaimed folk duo Nickel & Rose, Americana (despite having some deep reservations about that genre's long history of appropriating black music without always welcoming black musicians). None of those gigs, however, extinguished his desire to play the kind of traditional, acoustic blues he grew up admiring.
Maybe on some level he's pathologically drawn to spaces where he's an outsider. As a twentysomething black musician, Nichols is all too aware that the modern blues scene doesn't look much like him, but he never outgrew his childhood love of the music. "It seemed cool to me when I was young," he says. "You'd just hear people like Lightnin' Hopkins or R.L. Burnside, and they just seemed cool. That's why anybody gets into music, because it speaks to them."
And it continues to speak to him, so much so that he's tabled Nickel & Rose just as the duo was establishing itself as a major folk festival draw to pursue his dream of returning the blues to its songwriter roots. "I think a lot of what's been lost in the blues since the early '60s is the black experience, so I try to sing about that," Nichols says. "I can't escape racial realities, but I'm also aware that my audience is different than me, so the way they receive my message is different. I have this nostalgia for an era where blues musicians sang about their experiences to their own people, but that audience isn't there now."
It's a challenge, he admits, but there's power in crossing racial and generational divides. And on a personal level, he sees Buffalo Nichols as a form of justice for the music he's always loved. "I want to redeem the blues after all the experiences I went through when I was younger," he explains. "When I first started getting into the blues, my mom would take me to blues shows, and inevitably there'd be some old white guy there who would try to take me under his wing and explain 'the rules' of the blues to me. It chased me away.
"I always related to the blues," Nichols concludes. "I grew up in abject poverty. I experienced racism. And when I would sit down with a blues record, I could hear that in the songs. Now I want to be that person that I never got to see on stage."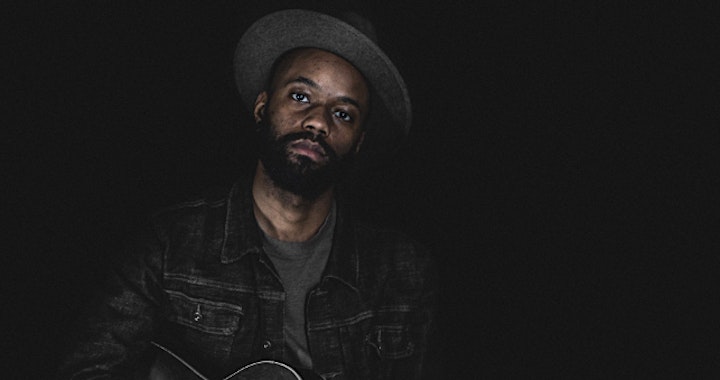 Venue Information:
Tower Theatre
425 NW 23rd St

Oklahoma City, OK, 73103