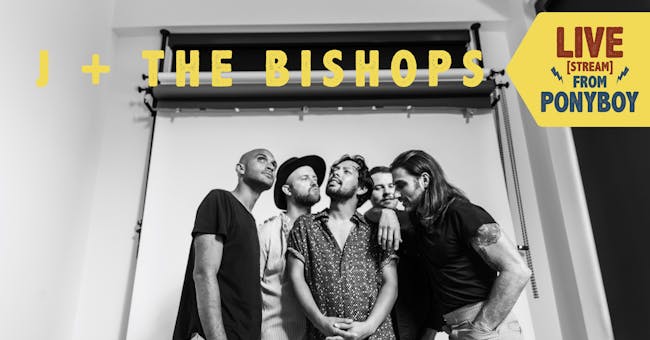 J + The Bishops - Live Streamed From Ponyboy in Oklahoma City.
No public gatherings? No problem. 🖤⚡️ Times are tough, but that won't stop us from experiencing live music together!
Introducing Live [stream] from Ponyboy - a live broadcast from historic Uptown23rd featuring performances from your favorite local artists! This week, we're proud to present J + The Bishops (8/5) at 8 PM.
Please note that these events are CLOSED to the public, but will be broadcast live across Facebook and YouTube. Interested in supporting our efforts? Consider sponsoring Live [Stream] as an underwriter! Contact info@towertheatreokc.com for details.
We'll get through this together - stay healthy and #StayGoldOKC!
About J + The Bishops
In the summer of 2018, Oklahoma City Singer-Songwriter Jose Hernandez decided to move away from his Americana style band The Black Magic Waters and move more towards a soulful, R&B sound with influences such as Prince, Leon Bridges and D'Angelo. Long time friends and musicians Ryan Magnani (Bass), Alberto Roubert (Drums), Alex Coleman (Guitar) and Kendrik McKinney (Keys) joined Jose to begin crafting this new sound and direction. With Jose's powerful vocals and crafty songwriting , he and the band hit the studio and have begun recording what is shaping up to be a unique and vibrant sound that is sure to be something special. And with the release of their first single "Pretty Baby" and another on the way, J+ The Bishops were born.
Venue Information: